Apple and Cream Cheese Crepes
(Makes four 12″ Hungarian crepes)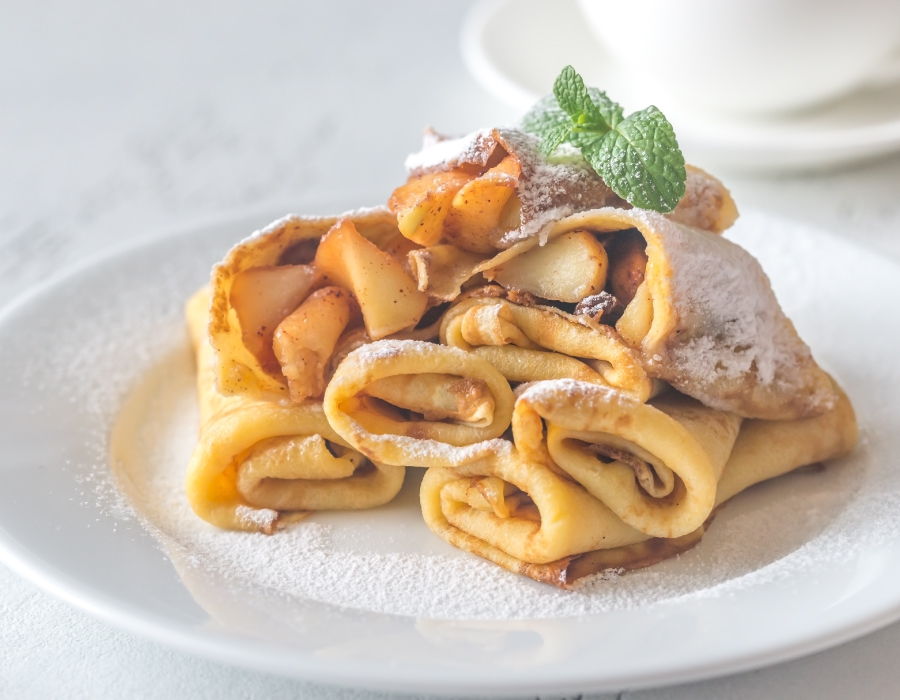 8 Tsp apple butter (separated)

4 oz cream cheese softened

5 Tsp of butter (separated)
Mix the apples, lemon juice, brown sugar and cinnamon in a bowl.

Melt three tablespoons of the butter in a small saute pan.

Saute the apple mixture for about ten minutes or until tender.

Add four tablespoons of apple butter to the apple mixture and cook on low for another one to two minutes. Keep warm adding a little water if it becomes too thick.

Beat the cream cheese, powdered sugar, and vanilla together until well incorporated.Add the remaining four tablespoons of apple butter and mix well.

Make four Alamarra Hungarian crepes according to the package directions.

Place some of the cream cheese mixture down the center of each crepe. Leave enough to put a small dollop on top of each crepe.

Top the cream cheese mixture with the apple mixture. Leave a small amount of the apple mixture to top the crepe.

Fold the crepes to desired presentation and top with remaining apple and cream cheese mixtures. Crepes can also be garnished with walnuts, pecans or a dusting of powdered sugar.